---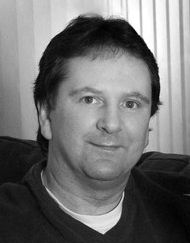 Mark D'Errico is a film composer located in Erie, Colorado.
He was born in Ottawa, Canada in 1964. He started playing keyboards at age 16. He has performed in many rock and blues bands over the years.
Mark moved from Ottawa, Canada to Boulder, Colorado in 1998. He quickly built his own home studio ("Boulder Manhattan Studio") and started writing and recording electronic, ambient, rock, instrumental and orchestral music.
He released his first CD, "Out of Bounds" in 2001. His second CD, Faithless Masque", was released in 2002.
Being a multi-keyboardist since 1980, he knows how to evoke the deepest feelings from his music. Whether it's eerie and tense or soft and heartfelt, his music carries your imagination to places it's never been before.
In 2002, Mark starting scoring movies and animations. Since then, he has scored over 100 feature films and shorts.
He has scored films in many genres such as horror, suspense, drama, comedy and science-fiction. He specializes in thrillers and dramas - movies that require very emotional and powerful music. Or music that will make the hair on the back of your neck stand up.
His music is mostly orchestral and modern electronic film styles, but he is capable of creating music in many other styles as well.
Music Styles
Orchestral
Film Music
Instrumental
Rock
Electronica
Ambient
New Age
Music Influences
Led Zeppelin
Tangerine Dream
Pink Floyd
Hans Zimmer
James Horner
John Williams
Sarah McLachlan
(Classic Rock)

Instruments / Software
Piano
Organ
Synthesizer
Many Sample Libraries
Cubase